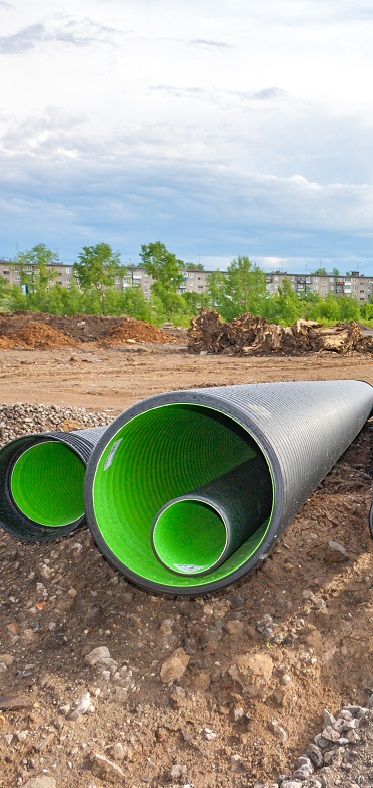 HDPE Double Wall Corrugated Pipe
Over the past several years, the use of dual wall High Density Polyethylene (HDPE) corrugated pipes for storm water has increased dramatically. This is because of their strength, durability, joint integrity, and long-term cost-effectiveness. HDPE double wall pipes are well proven in some of the world's toughest environments
Results show that forward-thinking municipalities realize the future of storm water management relies on the best technology. HDPE corrugated pipes are manufactured from the highest quality materials and are the most technologically advanced product available for moving storm water and wastewater.
Taldeen HDPE double wall corrugated pipes are the proven, reliable, cost-effective and safe solution for your long-term drainage needs. The pipes have two layers; the outer layer is corrugated to enhance the pipe's stiffness while reducing weight and cost; while the inner layer is smooth to improve flow efficiency and lower operational costs.
HDPE corrugated pipes can replace other piping material such as concrete, GRP and clay pipes as well as traditional plastic pipes.
Benefits
HDPE double wall corrugated pipes are a flexible pipe system that performs well in both high-cover and low-cover applications. Its unique ability to support and distribute both live and dead loads enables it to meet almost every installation condition.
Durability
Chemical inertness
High-density polyethylene is one of the most chemically inert plastics available. This inertness makes it chemical and corrosion resistant.
Abrasion resistance
HDPE double wall corrugated pipes are resistant to abrasion giving them a significant long-term advantage over concrete and metal pipes. This also makes them reliable and secure.
Joints
Silt-tight and watertight joints mean what is inside the pipe stays inside the pipe, and what is outside the pipe stays outside. This helps protect communities, individuals, groundwater supplies, and wildlife. The integral joints on our HDPE corrugated pipes meet stringent standards set out by the EPA as well as complies with ASTM and DIN specifications.
Tolerances
Tight controls in production and the use of uniform, specified raw materials ensure our HDPE pipes are manufactured to strict tolerances. In addition, silt-tight and watertight joints perform even under moderate deflections.
Economic Advantages
Installation
HDPE pipe is light and tough, and it is manufactured in long lengths. This combination of features reduces the cost of installation.
Life Cycle Cost
HDPE pipes offer significant savings over their life cycle compared to alternative drainage systems because they are resistant to abrasion and chemicals. They have a usable service life in many typical drainage applications of 100 years.

Fittings and Accessories
Fittings are available for DN size 100, 150, 200, 250, 300, 400, 500, 600, 800, 1000
Tees/reduced tees wyes (45˚)
Bends
Couplings
HDPE Double Wall Corrugated Pipe
HDPE corrugated pipes use extrusion technology.
The manufacturing process is flexible as different sizes and stiffness of pipe can be produced using the same extrusion equipment in combination with different sizes of mandrel.
The raw material goes from the extruder to the die head so the pipes can be shaped before going to the cutter.
Markets

Applications

Agriculture and Irrigation Industry
Air-conditioning & Refrigeration Industry
Airport/Military Institutions
Commercial Institutions
Construction and Building Industry
Cooling Plant Industry
Dredging Industry
Fertilizer Industry
Glass Industry
Industrial Disposal Industry
Marine Industry
Mining Industry
Oil and Gas Industry
Paper and Pulp Manufacturing Industry
Petrochemical Industry
Pipes Industry
Plastic resin Manufacturers
Power Plant Industry
Railway industry
Residential Institutions
Semi-Conductor Industry
Sewage Disposal Industry
Tank farms Industry
Telecommunication Industry
Waste Water Treatment Industry
Water Supply Industry

Canalization pipelines
Chemical engineering pipelines
Dams construction pipelines
Express highway pipelines
Gas field pipelines
Gravity water drainage system pipelines
High-voltage cable protection pipelines
Hydroelectric station pipelines
Industrial wastewater system pipelines
Irrigation pipelines
Metallurgical mining pipelines
Municipal engineering pipelines
Oil field pipelines
Rainwater drainage pipelines
Roadway waste water carriage pipelines
Sewage system pipelines
Shallow and deep tube-well casing
Shipbuilding pipelines
Storm water drainage pipelines
Thermal power project pipelines
HDPE Double Wall Corrugated Pipes - The Strong, Reliable, Cost-Effective Solution for Drainage
Over the past several years, the use of dual wall High Density Polyethylene (HDPE) corrugated pipes for storm water has increased dramatically. This is because of their strength, durability, joint integrity, and long-term cost-effectiveness. HDPE double wall pipes are well proven in some of the world's toughest environments.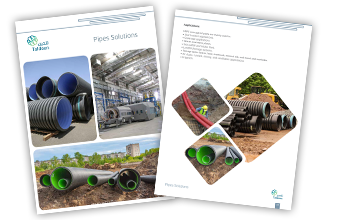 Download Brochure