Taldeen Plastic Material Handling Solutions uses advanced injection-molding technology to produce customized, material handling solutions (boxes, crates, etc.) made of durable and impact-resistant plastic. Our products experts are available to consult with our customers on their needs and requirements, and propose effective, economical solutions.
We partner with our customers to provide premium quality products. We strive to improve our output by meeting the varying standards and demands of the market. Our ergonomically designed crates, consume less floor space, and are user friendly.
Benefits
Environmentally safe, hygienic and easy to sterilize
No contamination
Strong and durable
Chemically inert, they do not rust or rot
Optimal design for good aeration
| Model | Length | Width | Height | Nesting | New Weigth |
| --- | --- | --- | --- | --- | --- |
| Dates & Poultry Crate | 580 mm | 380 mm | 212 mm | 30% | 1.7 Kg |
Stackable
Easy to Clean
Customized branding
Color as per customer requirement
- Units per pallet: 175 pcs
- Raw material: HDPE / PP
- Usage: for Poultry, Dates, Fruits, etc.
Markets

Applications

Agriculture Industry
Air Freight Shipping Industry
Automobile Industry
Beverage Industry
Building and Construction Industry
Chemical Industry
Consumer Goods Industry
Dairy Industry
Defense Sector
Drug Industry
Electronic and Electrical Industry
Export Industry
Food Industry
Fruit Industry
Furniture Industry
Grocery Distribution Industry
Healthcare Industry
Industrial Industry
Logistic Industry
Manufacturing Industry
Marine and Fishery Industry
Merchandizing Industry
Oil Tools and Machine Shop Industry
Packaging Industry
Pet Food Industry
Pharmaceutical Industry
Postal Service Industry
Poultry Industry
Retail Industry
Sea Freight Shipping Industry
Storage and Retail Store Industry
Supermarket Industry
Transportation Industry
Vegetable Industry
Warehousing Industry

Product Storage
Product Handling
Product Transport
Product Distribution
Plastic Material Handling Solutions Brochure
Taldeen Plastic Material Handling Solutions are made with innovative injection molding technology using unique material saving designs. The high-quality plastic pallets, boxes, crates, etc. match standard international sizes and meet industrial and commercial load bearing capacities.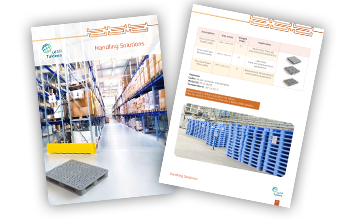 Download Brochure